In this article, we have embarked on a quest to discover the finest mobile games that can be enjoyed offline. Our dedicated research has identified titles that offer offline support, ensuring you never miss out on gaming excitement during commutes or internet-free moments.
Top 10 Offline Games in 2023 for Android and iOS
In this article, we present the top 10 offline games for Android and iOS in 2023. From action-packed adventures to mind-bending puzzles, these games are sure to keep you engaged even when you're offline.
Let's kick off our list with number 10: Mist Mobile. Originally released in 1993, this game has undergone multiple remasters to deliver stunning modern graphics.
Diverse Offline Gaming Experiences
Myst Mobile:
Myst Mobile exceeded all expectations with its stunning visuals and breathtaking freedom of action. Exploring the small island, searching for clues, and interacting with various objects left me intrigued. Describing the game's highlights without spoiling it is challenging, but overall, Myst Mobile is a fantastic experience.
Warped Kart Racers:
At number nine, we have Warped Kart Racers, a production by Electric Square. This game features beloved characters from popular animated comedies like King of the Hill, American Dad, Family Guy, and Solar Opposites. Each character has a unique vehicle inspired by the respective series.
Similar to Mario Kart, players compete in races, adversary modes, and more. Unlocking characters, skins, carts, and customizations adds depth to the game, while levels and power-ups inspired by the shows keep the competition intense.
Endling:
Extinction is Forever Coming in at number eight is Endling, an indie survival adventure developed by Hero Beat Studios. As a pregnant fox escaping a destroyed forest, you seek refuge near climate refugees. Your role as the mother is to venture into the blighted landscape, searching for food, avoiding danger, and teaching your cubs the skills needed to survive.
With its unique storyline and emotional depth, Endling offers a captivating experience as the last foxes on Earth.
Sand:
An Adventure Story Sand, developed by Pixlab, is an indie puzzle adventure game. You step into the shoes of Leo Parker, an archaeologist engaged in excavations in Giza.
The game's cartoon graphics and optimized gameplay make it visually appealing. With its engaging puzzles, graphic novel style, and captivating storytelling, Sand offers a delightful experience without advertisements.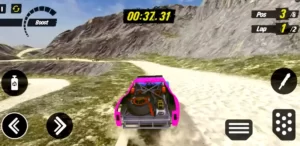 Dome Keeper:
Dome Keeper, a tower defense game developed by Bipin Bits and published by Raw Fury, is a mobile port that hooks players with its pixelated simplicity. Defend against alien creatures attacking the glass stone in this addictive game.
The stunning pixel art and sense of scale in Dome Keeper are impressive, leaving a lasting impression. With its immersive gameplay, it's easy to get absorbed in this gem during your free time.
Blast Motors:
Blast Motors is a visually stunning game that immerses players in a Forza-like racing experience. With its 3D graphics and tropical race locations, the game offers exciting round robin races against AI opponents. While there is no damage system, the races are filled with thrilling collisions and airborne cars.
The game features long tracks, open-world exploration, and even multiplayer options.
Internet Cafe Simulator 2:
Step into the world of Internet Cafe Simulator 2, an original simulator that lets you run your own computer club. As the owner, you'll tackle various tasks such as cleaning, repairs, purchasing components, and organizing promotions to attract visitors.
With its realistic gameplay and diverse activities, the game offers a high level of immersion. Explore the intricacies of managing an internet cafe and aim to maximize your earnings.
The Fall:
Survival Embark on a thrilling journey in The Fall: Survival, a gripping action role-playing game set in a post-apocalyptic zombie-infested world. With realistic 3D landscapes and challenging survival missions, the game puts you in the shoes of a survivor seeking answers and escape.
Navigate through the gloomy environments, face off against fierce zombies, and uncover the secrets of the apocalyptic setting.
ATSS 2:
ATSS 2 is an action-adventure game that thrusts players into a universe filled with terrorists. The game's realistic 3D visuals enhance the immersive experience, and cinematic sequences provide insights into each character's abilities.
With clearly defined missions and a strategic approach, you'll navigate through thrilling levels, annihilating enemies along the way.
Riptide GP Renegade+
Riptide GP Renegade+ is a visually captivating racing game that takes place on jet skis and water motorcycles. The game impresses with its stunning graphics, diverse locations, and a wide selection of watercraft to purchase and upgrade. Earn money, conquer fans, and participate in exciting events as you progress.
With high-quality visuals, dynamic gameplay, and a range of customization options, Riptide GP Renegade+ stands out as an exceptional choice in the racing game genre.
Is it worth downloading the game?
In the era of constant connectivity, offline games provide a valuable escape and entertainment option for mobile gamers. The top 10 offline games for Android and iOS in 2023 offer a diverse range of gaming experiences, from immersive RPGs to challenging puzzles and thrilling shooters.
Whether you're a fan of fantasy realms, racing adrenaline, or strategic decision-making. But I guarantee you that these offline games are sure to keep you engaged and entertained wherever you go.