Here are the New PSG Kits for DLS 23. You can copy the link to the kits and paste it into the game, and your kits will automatically be downloaded. It has given a golden metal look on its red base.
DLS 23 PSG Kits
Download PSG 23/24 Kits for DLS 23 below. You don't have to copy the kit link manually. Now open the link and paste it into the customize kit section of the game. The kit import process is very easy all you have to do is just copy the URL and paste it into your game.
PSG: A Glorious History
The club has a rich history that extends over five decades. It was formed in 1970, after the merger of the Stade Saint-Germain and the Paris Football Club. In the beginning, they played amateur leagues too. Since then, they have become one of the most successful clubs in French football, winning numerous domestic and international titles.
An Unmatched Achievements
PSG's trophy cabinet shines brightly, reflecting their unwavering determination and skill. The club's accomplishments speak volumes about their prowess and success. They recently won their record 11th league title in 2023.
Paris Saint-Germain (PSG): A Glorious History, Unmatched Achievements, and Stunning New Kits

PSG has really had the football on its grip, especially after the recent acquisition of the club by the Middle East Investors. Since then, the club has established itself as one of the most dominant football clubs in France and across Europe.

In this article, I will share the club's captivating journey of PSG, explore their remarkable accomplishments, and take a sneak peek at their latest, stylish kits. You can show your support for the club by wearing its latest kits in the Dream League Soccer game.

23/24 PSG Kit in DLS 23

Beyond their on-field performances, PSG is known for its style and fashion-forward approach. Each season, fans eagerly anticipate the unveiling of PSG's new kits. These designs blend innovation, style, and tradition, captivating fans and fashion enthusiasts alike.

Home Kit: The PSG home kit is an iconic blend of navy blue and red. The classic navy blue dominates the jersey, with striking red accents adding a touch of vibrancy.
Away Kit: PSG's away kit is a stunning all-white ensemble. The pristine white jersey features subtle accents in navy blue, adding a sophisticated touch. The white shorts and socks complete the sleek look, creating an aesthetic that exudes elegance and class.
Third Kit: PSG's third kit combines boldness and creativity. With a vibrant color palette, the third kit features a striking combination of black and pink. This eye-catching design pays homage to PSG's vibrant spirit and fearless approach on the pitch.
Other features of the Kits

The club's badge is also very recognizable and features the Eiffel Tower. PSG's new home kit is a modern take on the club's traditional colors and features a blue and white striped shirt with red accents. The kit also has a red and blue striped sleeve that is a nod to the club's history.

PSG has always had a strong visual identity, and these new away kits are a perfect example of that. I can't wait to see PSG players wearing these kits on the pitch. Thanks for making these kits, PSG
How to import psg logo & kits in dls 23?

Press the Copy button above the link of the kit.

Just click on the copy button of the kit you want to import into the game.

The link will be copied to your clipboard. You don't have to copy the link text manually.

Next, open your Dream League Soccer 2023, and go to the import kits section. Paste the link text, and click on the download button. Your kits will automatically be downloaded.

You can check more DLS Kits here
Check out: Al Nassr Kits for DLS 23
---
PSG Logo for Dream League Soccer 2023
This is the 512 x 512 size logo of PSG. Very easy to use, just copy and paste it into Dream League Soccer 2023.
https://i.imgur.com/FV7kubl.png
---
PSG Home Kit 23/24 for DLS 23.
This is the DLS new Home kit of the club. The club has retained its dark blur color as its base color with a red color stash/stripe running on the left chest which fades down from top to bottom.
You can imagine Mabppe running on the wings of Parcedes with this fire kit on his chest. White color logo and texture are used.
https://i.imgur.com/gKhQFZ4.png
---
PSG 23/24 Away Kits for Dream League Soccer 23
Nike has shown amazing creativity with this kit as they bring back the off-white kits with the black-colored textured design throughout the kit. There is a red stash running horizontally across the chest.
You can get this kit in your Dream League Soccer 2023 and play the DLO matches fearlessly with this amazing piece of art.
https://i.imgur.com/M650cMe.png
---
PSG 23/24 Third Kits for DLS 23
coming soon
---
PSG Goalkeeper Home Kit for DLS 23
The Goalkeeper Home Kit has a green color template. It is the same for all the kit formats of the goalkeeper.
The cheetah time random stripes-like structure really gives a cheetah dive when your goalkeeper dives in the Dream League Live match to save a shoot from the opponent. White color is used in all the other branding.
https://i.imgur.com/bNHYmrP.png
---
Gk Away Kit PSG for DLS 23
This DLS 23 PSG Goalkeeper Away Kit is the same as the home kit, instead, it is based on a black color with a grey design throughout the body.
https://i.imgur.com/wxkg4kM.png
---
DLS 23 Goalkeeper Third Kit
Similar to other kits Third Kits is a chrome Yellow color. Bright yellow color is designed throughout the body of the Kit.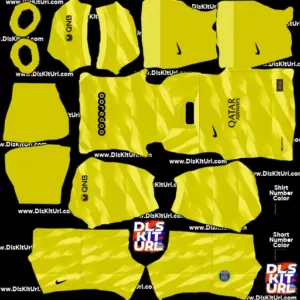 https://i.imgur.com/Iht9lxM.png
---
Key Takeaways
PSG has a rich history, with notable achievements and a strong presence in French and European football.
PSG's latest kits embody style, innovation, and tradition, captivating fans with their distinctive designs.
See Also: Manchester United 22/23 Kits for DLS 23
In conclusion, Paris Saint-Germain's illustrious journey, unmatched achievements, and stylish kits continue to capture the hearts of football enthusiasts worldwide. As the club embarks on new challenges, fans eagerly await the next chapter in PSG's history, hoping for more glorious victories and stunning kits that reflect their unique identity and unyielding spirit.